Meet the Team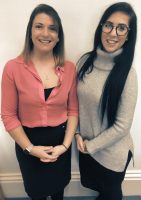 Hello and welcome from Charlotte and Naomi, with many years experience of planning wedding and parties we look forward to helping you on your big day. We will both be there for you from the very beginning of your planning until your special day itself and we will always go the extra mile for you and your guests. Ask away any questions, come and meet with us as many times as you need to, we are always happy to give advice and help in any way we can to ensure your day is just perfect.

David
David has over 30 years management experience and a variety of catering operations in both London and the South East. He has vast experience and expertise in organising and overseeing hospitality, weddings and events including VIP's including Royalty, High Profile Celebrities and the Lord Mayor of London.
Neville
Neville has spent his first 20 years in the catering industry preparing banquets for visiting dignitaries, the Royal Family & Armed Forces. He then joined Chef and Brewer Group as a Development Chef responsible for training and menu innovation. Neville has spent the last 7 years creating mouth watering menus for happy couples.
Have a read of our FAQs page for more information on weddings at West Heath.