Mr & Mrs Holloway 14.09.2019
The moment we met Annie and Chris we knew that they had something special and their wedding day would be full of love and laughter, we certainly were not wrong.
Annie and Chris similarly to some of our other couples, chose to have a church wedding nearby in Mottingham Church and then gather at West Heath for their celebratory drink's reception and canapés on the lawn.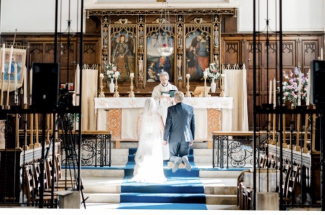 Annie and Chris had a dedicated team among guest to deliver some of their homemade signs and accessories from the church to their wedding coordinator at West Heath to display around the Old House. Homemade (with Love) wedding décor really does add a special touch and creates memories to keep and cherish.
Confetti is one of our favourite parts of the day and im sure you can see why from these photos. It is a great opportunity to tie a group shot and couple shot together. Annie and Chris's guests certainly did not spare on the confetti – even had confetti canisters which made a few people jump. We are still finding bits of this confetti nearly a year later!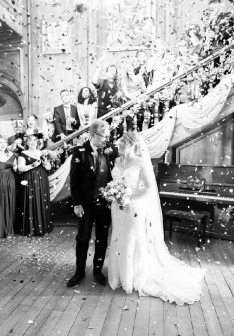 There were so many aspects to Annie and Chris's wedding what I wished could be relived probably as much as they wish they could relive their wedding day, from the gorgeous scent of the cake to the incredibly touching speeches that left no eye dry. Charlene, Annie and Chris's wedding photographer had the very important job of capturing all of these moments, Charlene did an amazing job.
Annie and Chris really wanted to have a relaxed approach to their wedding where they could enjoy the social gathering and time spent catching up and celebrating with guests. The atmosphere was vibrant full of excitement. This continued through to the evening where they danced the night away with their loved ones singing and celebrating the newly wed couple.
It truly was such a special day!